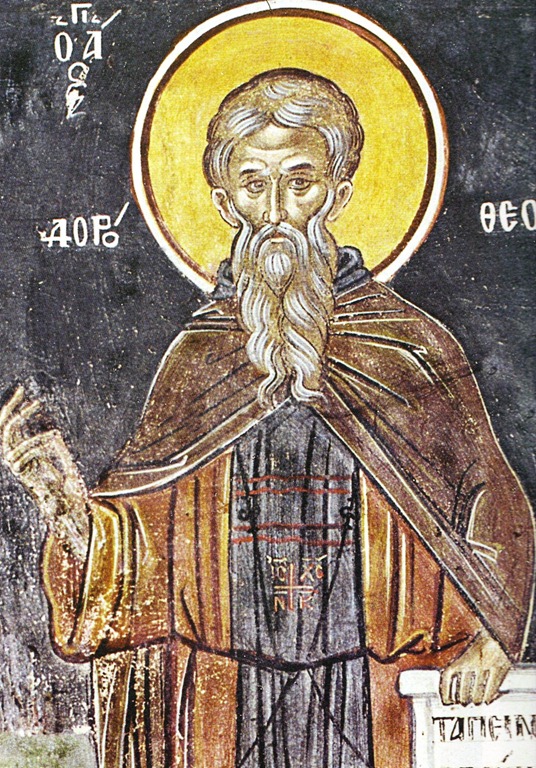 1. Abba Dorotheos used to say, "It is impossible for the person who trusts in his own prudence or his own thoughts to submit himself or pursue the good of his neighbour".
2. He also used to say, "since we are impassioned beings, we must not trust our own heart, for the crooked rule makes even the straight crooked".
3. He also used to say, "The person who does not despise al material things, glory and bodily comfort, even his own rights, cannot cut off his own will, nor can he be delivered from wrath and sadness or comfort his neighbour".
4. He also used to say, "It is no great thing to not judge or even to show sympathy towards someone who is upset and asks you for help. It is a much greater thing not to judge or dislike the person who, through his own passion, contradicts you. Also, not to ally with the judge of the person contradicting you and not to be pleased together with the person who prefers you".
5. Again, he said; "Do not demand love from your neighbour. The demander is disturbed if he is not answered. Rather, show your love for your neighbour and comfort him, and thus, bring your neighbour to love you".
6. Again, he said, " If you do something in accordance to God, temptation will always appear. All good things are either preceded or followed by temptation. It is also not certain that something is done according to God, unless it is tried by temptation".
7. Again, he said, "Nothing unites more than being pleased about the same things and being like minded towards one another".
8. Again, he said, "Humility is not disparaging your neighbour's gift. One must accept it with thanks, even if it is something small and of no value".
9. Again, he said, "In all that happens to me, I prefer to follow my neighbour's opinion, even if I do not then succeed, rather than be successful following my own opinion".
10. Again, he said, "It is to one's own good in every case to accept the minimum he needs, since it is not beneficial to him to be fully satisfied in everything".
11. Again, he said, "In everything that has happened to me, I have never wanted to act according to human wisdom, but I have always tried to do what I can and leave all things to God".
12. Again, he said, "The person who does not have his own will, always does what he wants. Since, as he does not possess his own will, everything that he does comforts him, and he always finds himself doing his will. He doesn't want things to be as he wants them, but rather he wants them to be as they are".
13. Again he said, "One should not correct his brother during the time that his brother sins against him, nor, even, at another time, for the sake of getting his own revenge".
14. He also used to say, "Love according to God is stronger than natural love".
15. He also used to say, "Never do evil, even in jest. Since it happens that someone starts doing evil in jest, and latter, without wanting it, he is bound to it".
16. He also used to say, "One must not desire to be delivered from the passions, simply because he desires to escape from the sorrow it causes, but precisely because he hates it, as it says: "I hate them with perfect hatred" (Ps. 139:22)".
17. He also used to say, "It is impossible for someone to become angry with his neighbour if his heart is not first lifted up against him, and he despises him, considering himself to be his superior".
18. He also used to say, "A sign that someone is exercising a passion willingly is if he is disturbed when he is censured or corrected. That a person bears censure of himself, that is his correction, calmly, is a sign that even if he sins, it is through weakness or ignorance".
Glossary
Abba: The name abba is of Aramaic origin and means father. In Greek, it appears as abba or abbas. The term is used in the New Testament by Christ himself, Who when addressing His Father said "Abba Father, all things are possible to you" (Mark 14:36). The Greek speaking Christians have also used the name Abba in order to signify God the Father (see Rom.8:15; Gal.4:6). In the monastic tradition, the term first appears in some Egyptian papyri at the beginning of the fourth century, and from then on is used in the Sayings of the Desert Fathers. In the monastic tradition, the term is used to indicate a spiritually mature elder, and experienced spiritual father, who has achieved holiness through his dedication to God and ascetic training. In the Coptic language the term abba appears as apa, while the feminine from of it is amma (mother)
Glory: The term doxa (glory) in the writings of Saint Dorotheos has a variety of meanings. Basically, it refers to the glory of God, but sometimes it declares the glory of the friends of God, the glory of humility or even the glory of the world. In the New Testament doxa basically means the divine way of being. God is full of glory, full of power and wisdom, love and divine honour, divine radiance and splendour. The glory of God belongs to His Being. Both in the New Testament and in the writings of the Fathers of the Church the glory of God is manifested in the Incarnation of His Son, through His miracles and his preaching, and especially through His resurrection, effected "by the glory of the Father" (Rom 6:4). Thus, eternal Divine Glory is revealed to the believers, who therefore have the possibility of being in communion with God and share in His Divine Glory. The ecclesial participation of the believers in Divine Glory is going to be fulfilled in the age to come. "For our citizenship is i heaven, from which we also look for the Saviour, the Lord Jesus Christ, Who will transform our lowly body that it may be conformed to His glorious body" (Phil.3:20-21)
Temptation: In the Old and New Testament, there are many aspects of temptation. In the more familiar sense temptation is the experience of the trial of a human person and impelling him towards sin. In this sense, temptation is a share of the experience of the first human persons attacked by devil before their sin and fall. The devil, the world and the weakness of the flesh are considered to be sources of temptation in Christian spirituality. Although our Father is addressed in the Lord's prayer with the words "and lead us not into temptation" (Matt.6:13), it is certain that God is never considered to be the origin of temptation. "Let no man say when he is tempted, "I am tempted by God"; for God cannot be tempted by evil, nor does He Himself tempt anyone. But each one is tempted when he is drawn away by his own desires and enticed. Then, when desire has conceived, it gives birth to sin; and sin, when it is full-grown, brings forth death" (james 1:13-15). The fight against temptation is the constant effort of every Christian and more especially of those following the ascetic life.
Humility: Humility is the appropriate Christian way. Humility is not simply a Christian virtue, but rather a condition of life, the foundation of all virtue. Christ Himself declared that "Whoever humbles himself as this little child is the greatest in the Kingdom of heaven" (Matt.18:4). "And whosoever shall exalt himself will be humbled, and he who humbles himself will be exalted" (Matt.23:12). Humility, as a way of life, is based on Christ's redemptive act, Who "humbled Himself and became obedient to the point of death, even the death of the cross" (Phil.2:8). The fruit of Christ's humiliation is the exaltation of humanity. Christ took upon Himself the form of a servant (Phil.2:7) in order to raise humanity to His divine life. Saint Athanasius emphasizes it well when he says "He became human that we might become divine" (De Incarnatione, 54). Thus, humility is the way of Christ. In monastic and, generally, in communal life, humility is considered to be a fundamental element. Not only the monk but every Christian, by being humble in the Christian community before others, is humble before God Himself. Humility is a free recognition of one's limits and abandonment to the love and grace of God.
Will: Thelema is that which is willed, it is the faculty or the object of an act of willing. Thelema is the result or the product of somebody's will. In ascetic writings it means the exercise of personal will, or the insistence upon one's own will, in the life of the community. The monk has to struggle against his own will and submit himself to the will of God as expressed by his spiritual father. This is a way of humility and obedience. The biblical justification of the rejection of one's own will is found in the words of Christ, "Not every one who says to me, "lord, Lord", shall enter the kingdom of heaven, but he that does the will of my Father in heaven" (Matt. 7:21). The same is expressed in the Lord's prayer, when we pray, "Thy will be done on earth as it is in heaven" (Matt.6:10).
Evil: Dionysius the Areopagite defines evil as "alien to good" and not self-subsistent (Of Divine Names, 4:19). Evil certainly neither has God as its ultimate origin, as the Stoics claimed, nor the human body or matter, as Plato stated. Evil is an unnatural condition due to the sickness of free will. In the final analysis, evil is the weakness and the absence of good.
Sorrow: Sorrow has a variety of meanings in the writings of Abba Dorotheos. Generally it means affliction or upset and finds its origin in sin. Sorrow often has a positive meaning; it means sorrow and suffering for the love of God. Sorrow is related to the self awareness of human weakness. It nourishes humility. Sorrow also means the sufferings, the tribulations and the difficulties every Christian has to face in order to enter the Kingdom of God (Matt.7:14). "We must through much tribulation enter into the kingdom of God" (Acts, 14:22).
From the Book: Abba Dorotheos, Practical Teaching on the Christian Life, by Constantine Scouteris