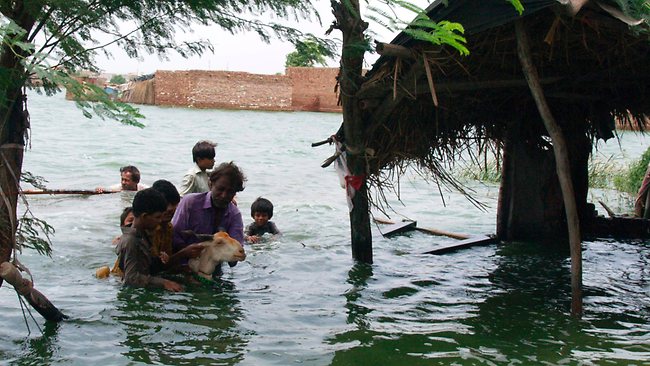 DEVASTATING rains have triggered floods in southern Pakistan, affecting at least 700,000 people and forcing 60,000 from their homes, officials have said.
Villages have been flooded and crops destroyed in Pakistan's bread basket of Sindh province, one of the worst-hit areas in the unprecedented floods of 2010 that affected 21 million people and caused losses of $9.57 billion.
"At least 700,000 people have been affected by the floods caused by the recent rains in the six districts of Sindh province," Sajjad Haider Shah, an official in the provincial disaster management authority, told AFP.
"Some 60,000 people have been rendered homeless, who have migrated to safer areas," Mr Shah said, adding that 30 people had been killed in the past week.
Another senior government official confirmed the number of people affected.
Sindh chief minister Syed Qaim Ali Shah told reporters overnight that one million people had been affected, but provided no details.
Tens of thousands of people are still living in emergency camps after last year's floods and British charity Oxfam has accused Pakistan of failing to invest in prevention measures, making it vulnerable to further disaster.
The army and navy are using helicopters and boats to rescue people who are trapped by the fresh floodwaters, said Kazim Jatoi, the chief administrator in Badin district.
"The soldiers of the army and navy are relentlessly shifting people from the dangerous places to the safer areas," Mr Jatoi said.
Pakistan's weak civilian government came under enormous criticism last year from victims of the floods who said ministers did little to help.
The army has also been working to rehabilitate itself after facing an unprecedented backlash over the covert American raid that killed Osama bin Laden on the doorstep of its top military academy on May 2.
Pakistan's largest charity, the Edhi Foundation, called for a comprehensive relief effort to help those at risk.
"We are providing food and necessary items to the people to survive, but that is not much and more people and organisations will have to intervene in the situation," Edhi Foundation's Anwer Kazmi said.
Mr Jatoi said makeshift relief camps had been set up in 150 school buildings, but said there was an urgent need for tents and food.
Read more: http://www.news.com.au/world/pakistan-floods-leave-60000-homeless/story-e6frfkyi-1226117122398#ixzz1VLdC7J00